Commercial Landscaping for Plano and Dallas-Area Companies
Our Local Landscape Experts Can Help You Attract New Clients
As a business, you only get one chance to make a good first impression and attract new clients. Part of what draws people to your business is your building's exterior and landscaping. A pristine lawn and parking lot convey that you care about maintaining a professional image while also being concerned about the safety of visitors and employees. At Yellow Rose Landscape Services, we've offered Dallas-Fort Worth, Plano, and surrounding areas of Texas commercial landscaping services for the past 40 years.
Our highly skilled landscapers offer various commercial landscape maintenance services, including lawn care, custom landscaping design, and irrigation repair. If your commercial property could use an aesthetic update, our experts would be happy to sit down with you and discuss the details of your next project. Call us today to request a commercial landscaping estimate at your convenience!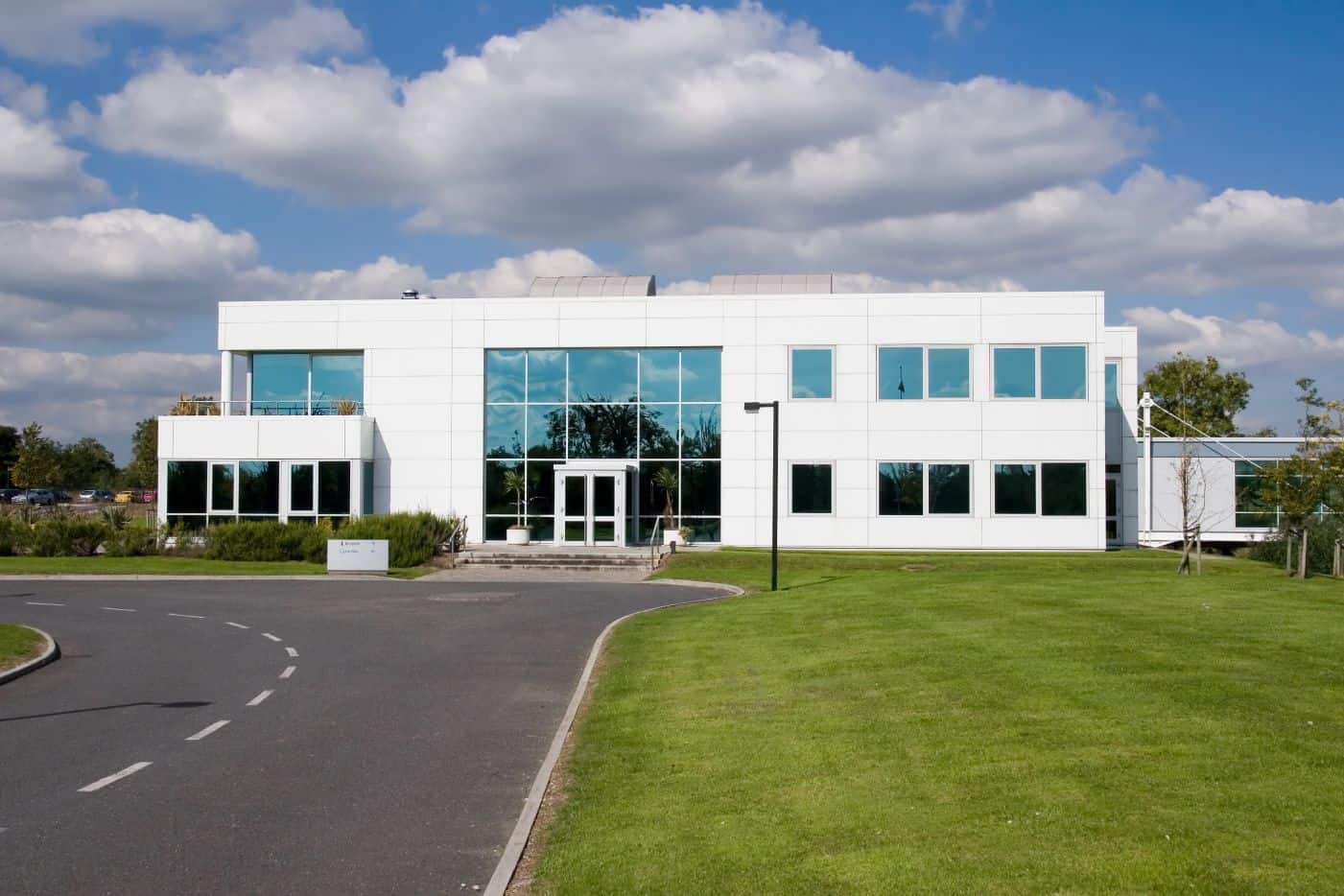 What Are the Benefits of Professional Commercial Landscaping?
Professionally landscaped properties are aesthetically appealing with lush lawns, colorful designs, and thriving plant life. When your business has a beautiful landscape, it attracts interest from potential customers and employees. Not only that, it can boost your property's curb appeal and value. If you invest in both landscaping and irrigation services, it can also help you reduce your carbon footprint while preventing erosion and saving your business on water usage. Commercial landscaping differs from residential landscaping, so it's essential to select a company specializing in providing both types. Yellow Rose Landscape Services will work around your busy schedule to minimize disruption to your operation. Since every property is unique, we create customized plans for each commercial client.
Comprehensive Commercial Landscape Maintenance Services
Yellow Rose Landscape Services is a locally owned landscape company offering full-service commercial landscape maintenance services. If you're looking for a landscaper to take care of all your needs with honest, reliable service, we're the perfect choice for the position. Count on us for all the following:
Commercial Landscape Maintenance – In addition to mowing the grass and trimming trees, our commercial landscape maintenance services also include fertilization, weed control, irrigation system inspection and repair, drainage solutions, landscape enhancements, seasonal color installation, and shrub trimming. We take great pride in our work, and it shows every time!
Commercial Landscaping Design and Construction – Not sure how you would like to update your company's landscape? Let our commercial landscapers draw new customers to your business with a custom landscape layout created specifically for you. From new shrubbery to the installation of new water fixtures, our team has the skills and expertise you need and deserve.
Commercial Irrigation Services – The Yellow Rose team is equipped to provide irrigation system inspections using the most advanced water management technology. We can also handle irrigation repairs, modifications, and additions to existing systems to help you save on water usage and prevent landscaping erosion on your property.
Commercial Lawn Care and Tree Care – Do you need professional tree and lawn care on your commercial property? From installations to pruning, fertilization, root flair excavation, and removal, your trees and landscapes are in excellent hands with our well-qualified staff.
School Campus Maintenance – We can ensure every aspect of your school's irrigation system and landscaping maintenance needs are handled professionally. School spirit begins with a pristine campus that instills pride in the community. Let us handle everything from gutter cleaning to hedge trimming, lawn mowing, leaf removal, tree and lawn care, and more.
Athletic Field Maintenance – Sports make up a significant part of Texas culture. Maintaining the athletic fields where the sports happen is essential to ensure they continue. Our team can maintain baseball, football, and soccer fields with traditional grass or artificial turf. Be proud to show off your athletic fields to visiting athletes as well as your local fans with our lawn care.
Why You Should Choose Yellow Rose Landscape Services
Since 1981, Yellow Rose Landscape Services has been a trusted name in local landscaping in Plano, Dallas, Fort Worth, and surrounding communities. What began with three staff members has evolved into a full-service company with over 100 dedicated employees today. Although we've grown to serve more customers per year, we still take the time to provide personal attention to ensure our landscaping services meet or exceed your expectations. Rely on our decades of experience and detail-oriented staff to complete commercial landscaping projects of all sizes to your total satisfaction.
Request a Commercial Landscape Maintenance Estimate Today
Please contact us via phone or email to learn more about our commercial landscape maintenance services in the Plano and Dallas-Fort Worth areas. We would love to schedule an appointment for a consultation to see how we may be of assistance. Our commercial clients have included shopping centers, banks, churches, office complexes, homeowner associations, hospitals, and more. Talk to our experts today about environmentally friendly landscaping maintenance services of the highest quality!