School Campus Maintenance in the DFW Metroplex
Look to Us for Campus Maintenance Services
No one likes the look of overgrown lawns and fields. For schools, it's even more critical to maintain well-kept grounds. Fortunately, the team at Yellow Rose Landscape Services can help you ensure your campus looks pristine. We work with numerous schools throughout the Dallas/Fort Worth area, providing them the curb appeal they need to make a good impression on prospective students and their parents. Find out more about how our team can keep your school or parish in top shape!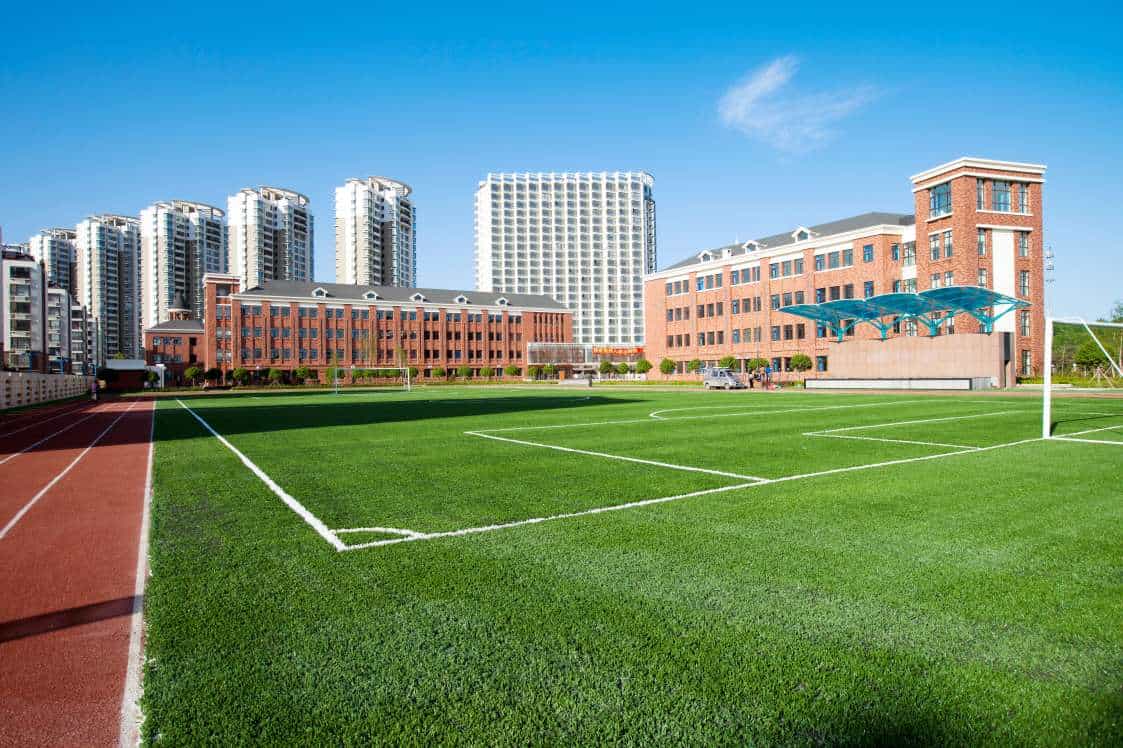 Maintaining More than Just Fields
When most people think of landscaping, they picture merely mowing the lawn or planting flowers. However, our services encompass more than just that. We specialize in nearly any kind of campus maintenance service you could need. Our team understands the importance of keeping your school looking its best, so we provide a comprehensive range of services. Below, you'll find some of our most popular campus maintenance services:
School Landscape Maintenance: Our team will visit your school's campus and ensure that your lawn looks spick and span. We can take care of basic mowing and edging, but we can also handle any leaf removal, gutter cleaning, and hedge trimming services you might need done.
Athletic Field Maintenance: When you host home games, you want an athletic field that you can be proud to show off to the community and visiting teams. Allow our team to take care of the hard work for you, keeping your fields in top condition. We specialize in weed control and general lawn care, but we can also install low-maintenance turf.
Learn More About Commercial Lawn Care
Commercial lawn care is our bread and butter at Yellow Rose Landscape Services. Many of these services are applicable to area schools and universities, and you can count on us to get the job done correctly the first time. Our commercial landscape services include all of the following:
Tree care
Lawn maintenance
Landscape enhancement
Landscape design and installation
Irrigation and drainage solutions
Your Experts on Commercial Irrigation
Our team can also apply our irrigation expertise whenever you request a maintenance or installation package. Say goodbye to astronomical water bills and the hard work of watering in the summer. It's no secret that the Dallas/Fort Worth area has sweltering summers, and a professional irrigation system makes maintaining lush green grass much easier. We're happy to provide our maintenance customers with our top-notch irrigation services, as well as our array of lawn care solutions.
Our Comprehensive Landscape Installation Package
When you look to us for landscaping maintenance, we're glad to provide a comprehensive service package. We take pride in helping schools in the area look their best, and we want to make sure you have all the resources you need to keep that curb appeal throughout the year. If you've requested maintenance or installation services from us, we can also provide extensive lawn care solutions, drainage help, and irrigation systems. Simply let us know what kinds of services your school needs, and we'll get to work!
Why Our Clients Choose Us
Schools and businesses choose us for campus maintenance for a plethora of reasons. First and foremost, we're committed to providing world-class customer service no matter which of our lawn care solutions you need. Each member of our crew is dedicated to giving you exceptional results every time. We have a keen understanding of schools' landscape needs, and we're glad to apply that expertise to each project. To further our customers' satisfaction, our team can create a custom maintenance program to meet your exact needs. We'll visit your campus, evaluate your needs, and develop a plan for keeping your landscape pristine throughout the year.
Reach Out to Our Team Today
Are you interested in requesting maintenance service for your school? Our team would be happy to discuss your needs and provide quick, friendly service as soon as possible. Campus maintenance can be a challenge, especially if your school grounds cover lots of space. Fortunately, no job is too big for our seasoned professionals. In addition to campus maintenance services, we're also well-equipped to provide commercial and residential lawn care. No matter your need, don't hesitate to speak with our team. Contact us today to learn more.