Lawn Care Maintenance Services in Plano, TX
Allow Our Experts to Care for Your Lawn
If you're tired of coming home to a lawn that doesn't look its best or putting too much time and effort into lawn care maintenance, you've come to the right place. Yellow Rose Landscape Services offers lawn care and lawn maintenance services for homes, schools, and businesses in Plano, TX. Our landscape contractors can take over the hard work of lawn care maintenance so you can sit back and enjoy the beauty that your lawn provides. We offer comprehensive lawn maintenance services that are reliable and affordable. If you're ready to have the lawn of your dreams without the time and effort, we have a landscape contractor prepared to get the job started. Get in touch with us today to schedule professional lawn service.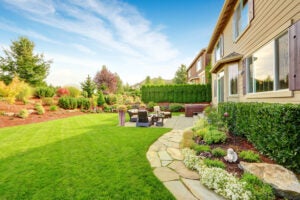 Professional Lawn Services
The lawn maintenance experts at Yellow Rose Landscape Services are ready to make sure your landscape and lawn are properly taken care of. We offer regular lawn service programs, including lawn mowing, weed eating, edging, and blowing. Ensuring your lawn is regularly mowed can enhance the beauty and curb appeal of your home or business. We can set up a schedule that works for you to ensure your lawn stays healthy and beautiful all year long.
Comprehensive Lawn Maintenance Programs
Wouldn't it be nice to enjoy your lawn without having to worry about taking care of it? Our professional landscapers are here to take this task off your hands. Our comprehensive lawn maintenance programs provide complete care of your landscape. We offer our services for homeowners, business owners, schools, homeowners associations, apartment complexes, and more. Our lawn care and maintenance plans include lawn maintenance, flower bed cleaning, tree and shrub trimming, mulch installation, fertilization and weed control, leaf cleanup, trash and debris removal, irrigation audits, and much more. We realize that no two properties are alike and will create a customized lawn maintenance program based on your needs and budget.
Why Choose Us?
We know you have options when it comes to choosing a lawn care maintenance company in Plano. Our team of landscapers goes above and beyond to deliver the best results and customer service possible. Our lawn experts will identify the type of grass at your property and determine the exact cutting length to deliver the best health and green appearance to your lawn. We use commercial grade edgers to create clean lines between concrete surfaces and grass. We trim areas around trees, flower beds, ornamental shrubs, and fence lines with weed eaters and remove all leaves and clippings, so your property stays fresh and clean. We always welcome any questions or requests and can set up a regular schedule, so you know when to expect us on your property.
Schedule Lawn Care & Maintenance Today
Yellow Rose Landscape Services offers great service from great people. We're ready to make your dream landscape a reality. Our team can help keep your school, home, or business looking its best. Find out why we're Dallas-Fort Worth's number one choice for commercial landscaping. Contact us today to schedule an appointment.