Residential Sod Installation in Plano, TX
Family-Owned Sod Installation Company
Yellow Rose Landscape Services provides residential sod installation throughout Plano, TX and the surrounding areas. Since 1981, our full-service, family-owned landscape company has served the North Texas community. We offer our valued clients a wide range of residential and commercial services. Our residential sod installation services are one of our most popular landscaping services.
What Is Sod Installation?
Sod installation involves removing old grass and weeds in the soil, amending the soil if necessary, grading the soil so that it's level and drains well, and installing the sod with industry-best practices. Sod is a mat of grass equipped with an established root system. Sod is often used to provide immediate vegetation for erosion control. Sod installation is an investment, and because of that, it's always best to have it professionally installed. Additionally, it's essential to set up irrigation or sprinklers after installation to ensure the sod receives plenty of water.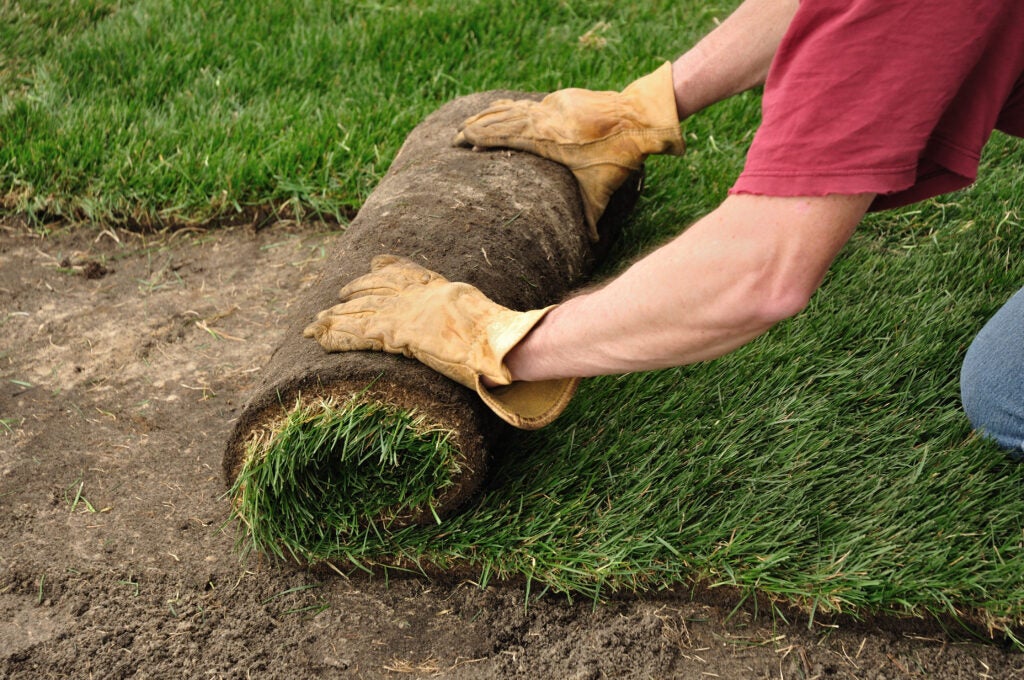 The Benefits Of Sod Installation For Your Plano Home
When you opt for professional sod installation, you will reap a wide range of benefits. The benefits of sod installation for your Plano home are as follows:
Instant Lawn – Sodding provides an immediate aesthetic change and is fully established about two weeks after installation. Regular outdoor activities can take place after two weeks.
Less Irrigation – Newly-installed sod only needs to be watered twice a day for a couple of weeks after it's planted, so you can save more time and money than you would if you seeded.
Preventing Soil Erosion – Because sod is already fully grown and matured at installation, it can control dust, mud, and erosion.
Professionally Grown – Because sod is grown professionally, you can rest assured that your lawn will have a healthy and robust foundation thanks to a premium product.
Added Value – Lawn sod installation instantly adds value to your residential property. The exterior of your home is just as important as the interior.
  Sodding Vs. Seeding
Sodding and seeding are two viable options for crafting a beautiful lawn. There are, however, some significant differences between the two options. The most crucial difference is that sodding takes less time to produce a finished product. Because sodding is transplanting mature grass and seeding establishes grass from a much earlier stage, seeding is a longer process. With sodding, you'll be able to reap the benefits of instant gratification, an initially weed-free lawn, an instantly accessible area, and assistance with erosion on slopes, as well as a wide range of additional benefits.
Our Sod Installation Process
When you hire the professionals at Yellow Rose Landscape Services for landscaping sod installation, you can expect the following sod installation process to take place:
Test your soil to determine its overall health
Choose a grass type based on your unique needs
Measure your planting area to determine the amount of sod needed
Kill and remove any remaining old grass
Prep the soil and level the area
Lay and roll out the new sod
Water and fertilize the sod after placement
What To Expect During The Day Of Sod Installation
When preparing for sod installation, there's not much you need to worry about doing. Our professional team will handle the ins and outs of the installation process. On the day we come to your property to install your sod, you can expect us to test your soil, help you select a grass type that meets your unique needs, measure the area to determine the amount of sod needed, kill and remove any remaining old grass, lay and roll out the new sod, and water and fertilize. You can sit back and relax while our team of highly-trained professionals handles the installation process! At the end of the installation, you can expect to be completely satisfied with the work we've done and start to picture the possibilities of entertaining on your brand-new, beautiful lawn.
How To Water Your Newly-Installed Sod
There are steps one should take when watering sod after installation. Within 30 minutes of installation, it is vital to water your newly-installed sod. At least one inch of water is needed so that the soil beneath the surface is wet and at least three inches beneath the surface is moist. The season you opt for sod installation will determine if you need to start irrigating the completed areas before the entire area is laid – if the weather is significantly hotter and dryer, this will be a necessity. From this point, continue with water twice a day, once in the morning and the afternoon. It's essential to ensure that the soil is saturated but not puddling. Within a couple of weeks, the sod will have started to root into the soil, and you won't need to water it as frequently.
Why Choose Yellow Rose Landscape Services?
We take pride in putting our clients first and providing them with unparalleled landscaping services. Unlike other landscaping companies in the area, we feature:
Proven processes
Personal attention
Honest, reliable service
Over 36 years of experience
Commercial and residential services
Contact Us Today For A Free Sod Installation Estimate
If you need Plano sod installation, you've come to the right place. Yellow Rose Landscape Services has provided Plano, TX residents with premier sod installation services for the last three decades. Whether you have a residential or commercial property, we can install premium-quality sod and give your Texas property a jaw-dropping exterior. Sodding is a quick and efficient way to get grass fast, without budging on quality. Contact us today to schedule a consultation with our professionals.